Courses
Spoken Mandarin
BASIC, INTERMEDIATE, INTENSIVE, SURVIVAL BASIC, CORPORATE TRAINING
BASIC: Learning spoken Chinese with pinyin, this class is a building block for continuing on to higher levels. Starting with conversation to create social fluency and ability to accomplish daily tasks: introductions, questions/answers for small talk, buying things, talking about time, family, work, interests. Vocabulary building: numbers, foods, time, dates, relationships, geographical names, directions, daily items. Grammar: prepositions, verb tenses, pronouns, compound verbs, nouns.
INTERMEDIATE: Spoken Chinese with pinyin reading. Enhancement of pronunciation and tones practiced to erase accents, avoid grammar mistakes. Social fluency accompanied by confidence to address and engage native speakers in conversation on topics related to life, work. Vocabulary building: concepts, brands, business. Grammar: prepositions and 'perfect' verb tenses, word order.
INTENSIVE: Spoken Chinese with pinyin. Special attention paid to tones and pronunciation. Any incoming level accepted, with some previous introduction to Chinese preferable. Course material combines BASIC and INTERMEDIATE materials. Emphasis on speaking, listening.
SURVIVAL BASIC: Concentration of BASIC level course designed for travelers needing a background in Chinese for short term/urgent business, educational, tourism needs.
CORPORATE TRAINING: Individual and group classes for BASIC with Culture Background course orientation plus custom material and skill focus upon needs assessment.
Text/Digital
READING/WRITING, CALLIGRAPHY
READING/WRITING: Reading and writing radicals, characters, using a Chinese dictionary , calligraphy, typing in Chinese, pinyin, Wu Bi, ITABC. Custom content focused on poetry, literature, signs, newspapers.
CALLIGRAPHY: Ink and paper Chinese Calligraphy. Water brush practice. Create your own seal.
Chinese Culture
MODERN CHINA, BUSINESS CASE STUDIES
MODERN CHINA: From Qing to Mao to Deng to present, how China developed in the past century. Economics, politics, technology, social changes.
BUSINESS CASE STUDIES: Making/Not Making Money in China. Manufacturing, Sourcing, Marketing, Selling, Investing. Apple, Chrysler, VW, GM, GE, Coca-Cola, Disney.
TEXTS
Instructors at The China Center use a variety of materials for each Mandarin Study program.
Listed below are some of the textbooks we draw upon for our lessons. Once a student is registered for a course, we can help you to order one of these following resources. More info from Amazon below:
Complete Mandarin Chinese (Elizabeth Scurfield)
A clear and comprehensive approach to Mandarin Chinese, so you can progress quickly from the basics to understanding, speaking, and writing Mandarin Chinese with confidence.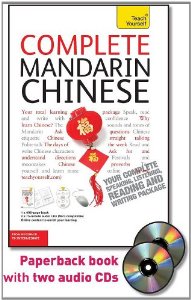 Within each of the thematic chapters, important language structures are introduced through life-like dialogues.You'll learn grammar in a gradual manner so you won't be overwhelmed by this tricky subject. Exercises accompany the texts and reinforce learning in listening, speaking, reading, and writing. This program also features current cultural information boxes that reflect recent changes in society.
The accompanying audio CDs include audio exercises–performed by native speakers–that reinforce communicative skills.
Elizabeth Scurfield was until recently Chair of Modern Languages at the University of Westminster, where she was a founder member of the Chinese section. She has more than 30 years' experience of teaching Chinese to beginners.
Chinese For Beginners: Mastering Conversational Chinese (Ren Yi, Liang Xiayuan)
Yi Ren has taught thousands of Americans to speak Chinese fluently. Now, she and co-author Xiayuan Liang share their secrets for fast mastery of Mandarin Chinese with you. China has 1.3 billion people and due to initiatives to phase out regional dialects in favor of Mandarin Chinese, nearly all of them can communicate in Mandarin.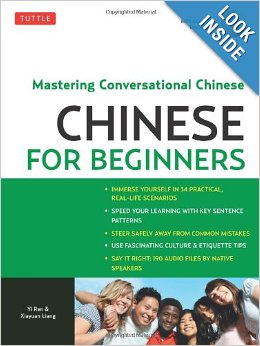 Don't let yourself be intimidated by this rewarding language. Although it is true that mastery of the Chinese language takes time, Mandarin Chinese actually has simpler grammar than English and there are no conjugations—meaning anyone can learn a few important phrases in no time. Chock full of extra hints and tips drawn from the authors' many years of experience teaching Mandarin Chinese in adult evening classes, Chinese for Beginners focuses on realistic situations you'll encounter when you meet people in China.
New words are explained in terms of how you'll actually use them to communicate with new friends. The language CD lets you listen and repeat and remember the sentences with ease, and will help you soon declare with pride, "I can say that in Chinese!"
Speak Mandarin Chinese with Confidence (Elizabeth Scurfield, Song Lianyi)
An all-audio survival program for beginners that will get them conversing in no time!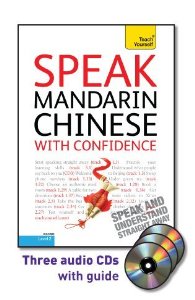 An audio-based course for beginners, requiring no reading. Twenty conversations, and following explanations and instructions, are simple and bite-sized, making this a very accessible program. Includes three audio CDs.
Elizabeth Scurfield (London, England) is a former chair of the Department of Modern Languages at the University of Westminster in London.
Song Lianyi (London, England) has taught Chinese as a foreign language for more than 15 years.
3 CDs plus guide with dialogues and interpretations.
Pocket Interpreter Chinese (Chen Menghui, Yin Bian)
This handy companion begins with a brief survey of essentials to prepare the new student of Chinese on forming basic sentences.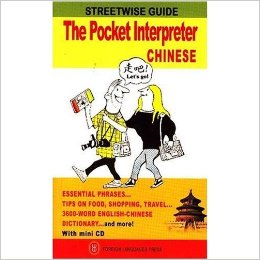 Alongside the sentences are explanations about many unique aspects of China, from local snacks to Chinese Operas. 3500-word English-Chinese dictionary with tips on food, shopping, travel…and more!