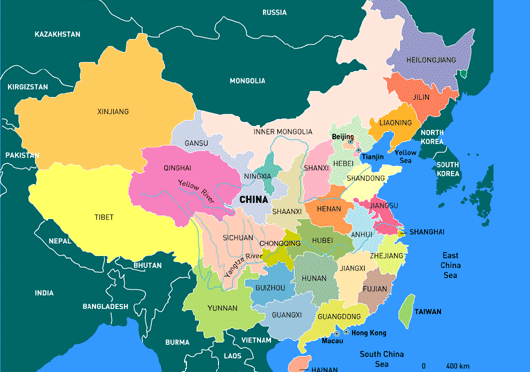 Provinces of China
The People's Republic of China or P.R.C. is commonly referred to as China.
The country is administered via 23 Provinces (includes Taiwan), 4 Municipalities (Beijing, Shanghai, Chongqing, Shenzhen), 5 Autonomous Regions
(Guangxi, Inner Mongolia, Ningxia, Xizang aka Tibet, Xinjiang), and 2 Special Administrative Regions (Hong Kong HKSAR and Macau MSAR).
Provinces
Anhui
Anhui (Chinese: 安徽) is considered eastern China. Close enough to Shanghai, Hangzhou, and Xiamen for constant migration. Home to Huangshan, one of China's major mountains.
Fujian
Fujian (Chinese: 福建) is home to Xiamen and Fuzhou, both fairly big cities on the east coast. Lots of Chinese in New York and other parts of the world originally come from this province.
Gansu (Chinese: 甘肃)
Gansu is in the northwestern region of China. Capital Lanzhou is pretty much in the center of China on the map.
Guangdong (Chinese: 广东)
Guangdong is better known as Canton. Hong Kong adjacent, Guangzhou and Shenzhen are the center of the Pearl River Delta area.
Guizhou (Chinese: 贵州)
Southwest China, known for stupendous terrace farming, mountain scenery, batik, embroidery.
Hainan (Chinese: 海南)
Tropical island in China, former exile spot: "furthest point South!"
Hebei (Chinese: 河北)
Hebei is next to Beijing and Tianjin (from which the 2 muncipalities were separated).
Hubei (Chinese: 湖北)
Hubei is home to Wuhan, famous for post secondary education and Budweiser beer. There's even a brewing college in Wuhan.
Heilongjiang (Chinese: 黑龙江)
Part of China's Northeast. Extremely cold in winter, famous for ice festival in Harbin.
Henan (Chinese: 河南)
South of the river, adjacent to Hebei. Capital Zhengzhou is an important rail hub.
Hunan (Chinese: 湖南)
South of the lake, adjacent to Hubei. Ancestral home of Chairman Mao, Shaoshan near the capital Changsha.
Jiangsu (Chinese: 江苏)
Borders Shanghai in the south, home to Nanjing, Wuxi, Yangzhou.
Jiangxi (Chinese: 江西)
Near enough to so many coastal provinces that people from Jiangxi are all over eastern China.
Jilin (Chinese: 吉林)
Part of China's Northeast. Borders North Korea, lots of ethnic Koreans around Yanbian, an autonmous prefecture for one of China's 56 ethnic nationalities.
Liaoning (Chinese: 辽宁)
Part of China's Northeast. Home to Dalian and Changchun, large Chinese Rust Belt cities.
Qinghai (Chinese: 青海)
Home to largest salt lake in China, Qinghai Lake.
Shandong (Chinese: 山东)
Part of the agricultural basket of China and home to Tsingtao Beer from city of Qingdao.
Shaanxi (Chinese: 陕西)
Home to Xi'an, where the Terra Cotta Soldiers stand guard for first Emperor, Qin Shihuang.
Shanxi (Chinese: 山西)
Home to Taoyuan.
Sichuan (Chinese: 四川)
Famous for spicy food, pandas, and huge mountains.
Taiwan (Chinese: 台湾)
Island paradise once know as Formosa, 'the beautiful island".
Yunnan (Chinese: 云南)
Home to Kunming, the Spring City.
Zhejiang (Chinese: 浙江)
Home to Hangzhou, Ningbo and many famous Chinese intellectuals such as Lu Xun.
Autonomous Regions:
Guangxi (Chinese: 广西)
Inner Mongolia (Chinese: 内蒙古)
Ningxia (Chinese: 宁夏)
Xinjiang (Chinese: 新疆)
Xizang (Chinese: 西藏)
Municipalities:
Beijing (Chinese: 北京)
Chongqing (Chinese: 重庆)
Shanghai (Chinese: 上海)
Tianjin (Chinese: 天津)
SAR:
Hong Kong (Chinese: 香港)
Macau (Chinese: 澳门)