China's Homegrown Google: Baidu.com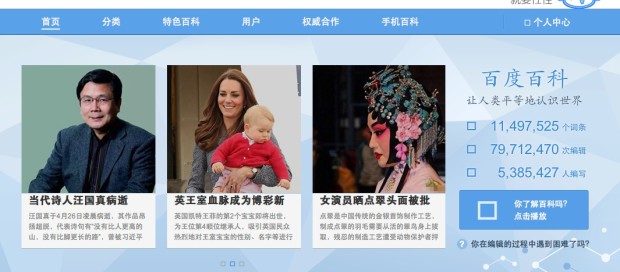 At the time of writing this post, Google.com search engine, Gmail, and other Google products are inaccessible from within China (without a VPN). What do people in China use when searching for information?
The top ranked Chinese website on the Internet is called Baidu. There is an encyclopedia style compilation on Baike Baidu of information in Chinese, similar to Wikipedia.
Wikipedia says of Baike Baidu:
"Baidu Baike (Chinese: 百度百科; pinyin: Bǎidù Bǎikē; translation: Baidu Encyclopedia) is a Chinese language collaborative Web-based encyclopedia provided by the Chinese search engine Baidu. The test version was released on April 20, 2006, and within three weeks, the encyclopedia had grown to more than 90,000 articles, surpassing that of Chinese Wikipedia. By 2008, Hudong.com had surpassed both in article count but Baidu Baike is number one again. The encyclopedia censors in accordance with the requirements of the Chinese government"